Dinosaur Daze
Dry Duck Poker Run
Flying Duck Adventure-Dual
Wet Duck Poker Run
Events
The Tacoma Motorcycle Club sponsors a number of different motorcycle events, such as the Dry Duck Poker Run, the Wet Duck Poker Run, the Dinosaur Daze race, and the Flying Duck Adventure. Join us for a great time of touring Western Washington on your motorcycles!

Home
> Events
---
Dinosaur Daze 2018
Dinosaur Daze 2018 will be located at Riverdale Raceway
in Toutle WA. June 9-10 , with a different format .

Saturday : 3/8 mile Open-Traction TT , Vintage/Evo and modern racing . Added purse for Open Pro main .

Sunday : Vintage and Post/Evo motocross .

For more Info: Tony Fox 253-376-2527
Event Dates: Saturday, June 09, 2018
To: Sunday, June 10, 2018
Location: 7255 Sprit Lake Hwy , Toutle WA,
---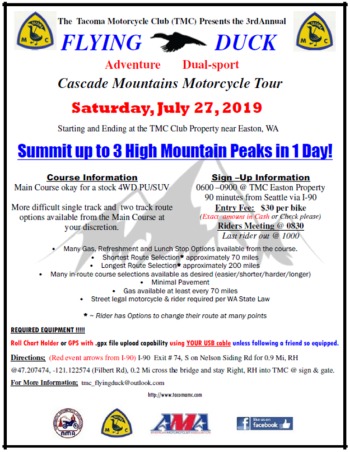 'Summit 3 High Mountain Peaks in one Day !'
Flying Duck Adventure/Dual-sport
Cascade Mountain Motorcycle Tour

Saturday July 28 2018 Easton , WA

For more info : tmc_flyingduck@outlook.com

For better view of flyer go to our links page , click on NMA website scroll down upcoming events and click on flyer .
---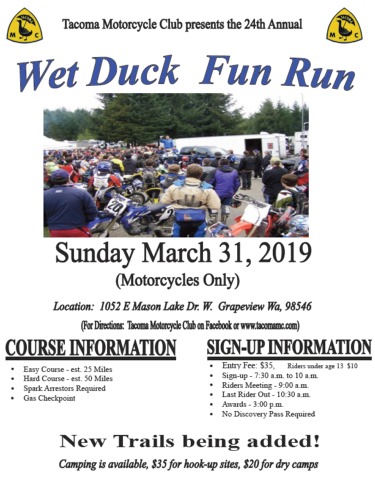 Wet Duck Poker Run 2018
Wet Duck Poker Run - April 15 2018
All new location , All new trails !!

Trails for this years Wet Duck will be located on private lands leased to Shelton Dirt Riders LLC.

Location: Green Diamond Mason Lake Camp
1052 E. Mason Lake Drive W.
Grapeview, WA 98546
Camping is available ; $35 for hook-up sites ,
$20 for dry camps .

For more info : Rob 253-355-6377
E-mail : tacomamcwetduck@yahoo.com

Event Dates: Sunday, April 15, 2018
Location: 1052 E. Mason Lake Drive W, Grapeview, WA 98546
---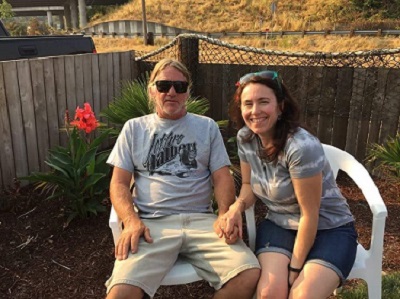 Dry Duck Poker Run 2015
Thanks to all riders and friends who came to 15th Annual Dry Duck Poker Run. Start and finish at Captain Jack's. Special thanks to Willie & Shannon Halbert for joining us to benefit Jethro Halbert !

With all your support and donations we raised $2000
for the Jethro Halbert Fund !!

Thanks to all our supporters;
Cycle Gear of Auburn
Cycle Gear of Tacoma
Tacoma Motorsports
Hinshaws Motorsports
Hinshaws Victory/Indian
Bent Bike of Auburn
Lawless H-D
Enumclaw Motorsports
Eagle Leath... Read More
Event Dates: Saturday, August 22, 2015
Location: 13501 Valley Ave E, Sumner, WA 98390
---
Dinosaur Daze
Dry Duck Poker Run
Flying Duck Adventure-Dual
Wet Duck Poker Run